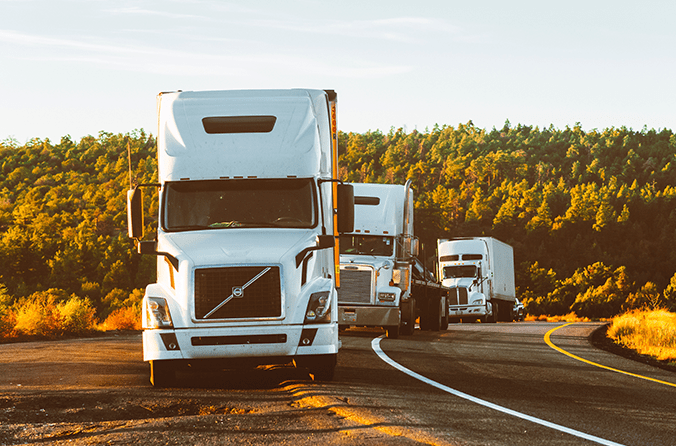 Cross-border freight is a booming business between Mexico and the United States. This blog post talks about how to drive cross-border trucking in order to get your goods from point A to point B. We will also talk about what it takes for a company to become an approved carrier of cargo, who are the most common carriers, and what you need to do if you plan on driving cross-border freight.
What is cross-border trucking?
Cross-border trucking is a process of transporting goods from one country to another. This usually happens at the frontier or in special lanes for international drivers. Cross-border freight is also known as "overland trade" between two countries who are trading with each other. If you want to drive cross-border, you need to be approved and registered as a carrier.
More than 60% of all cross-border trade from Mexico and to the United States is done by trucks. This has led to a rise in the demand for truckers, which can sometimes create a shortage.
The majority of trucks go to the border town of Nogales. This is because it's located on the Mexican side, and has a major highway leading straight from Mexico City. Drivers can then take this same road all the way up through Arizona, California, New Mexico, Texas or Oklahoma to get back into the States.

Delays are a problem at the customs in Mexico. One way to avoid them is to do your paperwork before shipping cross-border freight.
There are many things to consider when shipping freight between the US and Mexico. If you follow a few tips, these challenges will be avoided.
First tip: Know your paperwork. Customs officials may ask for proof that what's in the containers matches what's been declared on the paperwork. So make sure you have all the documents you must present along with your merchandise at Mexican customs.
Second tip: Get your vehicle serviced. Mexican customs officials may ask for proof that the vehicle is in good working order, so make sure to have it inspected before crossing over!
Third tip: Know what you're shipping. Check with Mexico's import laws and regulations on items like food products or animals before bringing them across border freight between Mexico and the United States. If you are not sure if your products are allowed for crossing the frontier, take a look to this blog post: What items have restrictions to send across Mexico and USA border?
Fourth tip: Know when to update your records. Changes in Mexico's import taxes or regulations may require updates at the border, so be prepared!
Shipping freight between the US and Mexico can be a daunting task. However, following these tips will help you avoid many of the most common challenges that arise when shipping cross-border freight from Mexico to the United States. From knowing what paperwork is required to making sure your vehicle is in good working order, there are plenty of things you should do before crossing into Mexican territory!
What qualifies a company to be an approved carrier of cargo at the Mexican border?
To qualify as an approved carrier of cargo at the Mexican border, a company needs to have been operating for at least six months with one vehicle that complies with Mexican regulations. They must also be able to provide proof that they are paid up on their taxes and social security contributions in Mexico. The company should not have any outstanding fines or sanctions of any type.
Other requirements that are important for becoming a certified carrier of cargo at the Mexican border are:
Mandatory training of the drivers, which includes an overview of Mexico's import regulations and a review of safety practices when driving in high risk areas.
A cargo insurance policy with Mexican jurisdiction. This should be a minimum of USD 100,000 per shipment of goods and must include damage to the transportation vehicle as well as personal injury or death during transport. The driver's liability for penalties cannot exceed USD 250,000.
Insurance coverage is not enough by itself; it also needs appropriate liability insurance to cover cargo during transit  and other related risks. This is normally done by providing Mexican customs with evidence that one has purchased coverage from either a Mexican insurance company or an international insurer with a branch in Mexico.
The company must also have vehicle registration documents from the United States Department of Transportation, a vehicle identification number (VIN) and an International Organization for Standardization certificate.
A company that complies with these requirements will be able to transport cargo across the border between Mexico and the United States without any issues or problems.
That being said, there are 2 different methods of shipping freight across the border with Mexico. If you want to know which one suits you best, make sure to also check this article: Which service to choose when trucking to and from Mexico?
Who are the most common carriers when transporting freight at the Mexican border?
Well, it depends on where you are coming from and what type of cargo you're transporting. If your company is in Los Angeles and you are shipping to Guadalajara, for example, there will be a different set of carriers than if your business was based in Laredo Texas but exporting goods to Mexico City.
Choosing a provider may depend on the type of cargo you are carrying and also on the destination.
In order to make a clear differentiation, we can divide low cargo companies from large freight companies.
Companies for low cargo or less valuable items
The most common carriers when it comes to transporting freight across the borders are probably FedEx, UPS, and DHL. These companies have been operating for decades in Mexico as well as internationally and they offer a variety of transportation options such as air or ground service, door-to-door delivery services, and customs clearance assistance only to name a few. They excel at providing a good service on the B2C market but also as a provider for major e-commerce websites such as Amazon or eBay.
Companies for large freight or specialty merchandise
For large freight or specialty merchandise, the most common carriers are LTL (less-than-truckload) and FTL (full-truckload) trucking companies. These two types of carriers can provide either local delivery services in Mexico as well as international deliveries to other countries.
These two types of firms may also offer a variety of transportation options such as air, sea, and ground transportation, as well as complementary services such as warehousing, distribution, and supply chain services.
Mexico and USA cross border trucking final notes.
If you need to transport cargo across the Mexican border, it is important that your company has all of the proper documentation and certifications before beginning the process. In addition to having a good insurance policy for the risk involved in transporting goods internationally, you should also have workers' compensation coverage as well as vehicle registration documents from the US Department of Transportation. It's also wise to choose an approved carrier such as FedEx or UPS if your goal is importing low-value items into Mexico, while LTL or FTL carriers are best suited for large freight shipments that require customs clearance assistance.
If you are looking for a company to help you out transporting your freight between Mexico and the United States, the ILS company is a great choice. We have decades of experience in cross-border trucking services and we offer high-quality customer service that ensures our clients get what they need at an affordable price with no hidden fees or surprises. If you're interested in learning more about how ILS can help your business grow by providing transportation options from anywhere within North America to anywhere else internationally, please contact us today!