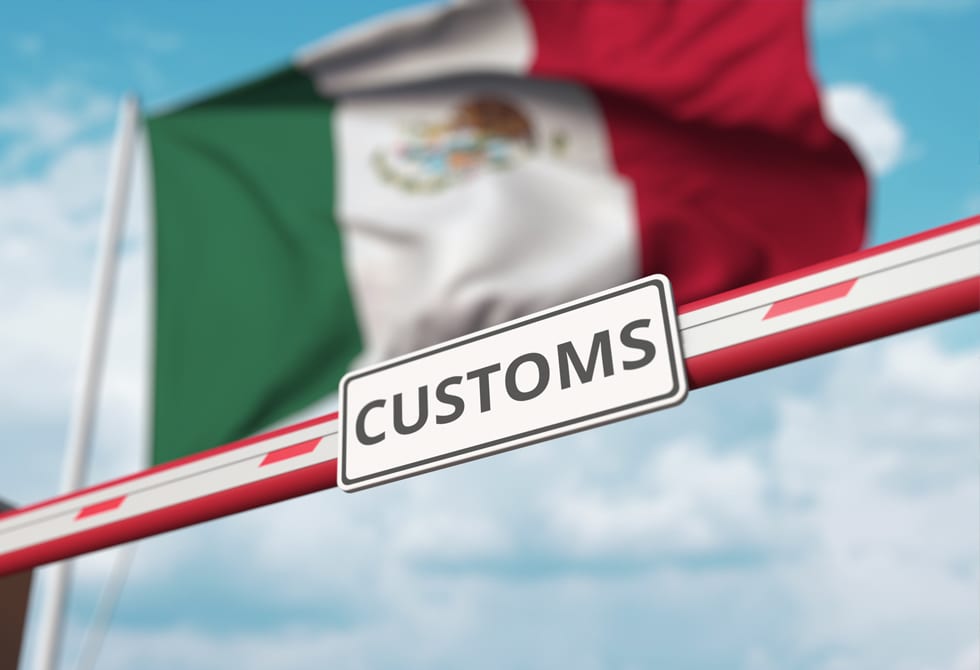 IMPORTANT THINGS YOU SHOULD KNOW BEFORE SHIPPING TO MEXICO
Freight companies in most parts of the world face a lot of issues when it comes to crossing borders in order to get a product to its destination. This is particularly true for logistics companies operating in the United States and Mexico. There are quite a lot of obstacles that get in the way of these companies. These obstacles cause numerous delays and errors which not only affects the businesses and companies sending these products but also the freight services exporting them.
Most business owners do not realize the complexities that surround cross-border shipment between the United States and Mexico. They are not aware of the fact that crossing borders are riddled with unforeseen circumstances that most freight services cannot even predict.
From lack of security, thieves, smuggling, corruption, and various other requirements, you have to take a lot of things into consideration before you rely on a service to good your goods in a safe and timely manner. What is more important is that the service you choose should have a good amount of experience and a clear idea of what to do if things go awry when they are shipping the products across the Mexican border.
EXPORTING ASSISTANCE FOR U.S. COMPANIES
The best thing about exploring the opportunities to export to Mexico is knowing you don't have to go alone. If you're wondering the way to export to Mexico, you'll possibly need assistance from your in-country allies, including the U.S. Commercial Service office, international trade missions, and chambers of commerce.
U.S. Commercial Service Offices
One of the primary places to think about is your local and in-country U.S. Commercial Service offices. The U.S. Commercial Service helps U.S. businesses find Mexican buyers and exports partners. They also include representation by an agent, distributor, or partner who can provide essential local knowledge and contacts critical for your success.
District Export Councils (DECs)
The National Association of District Export Councils (NADEC) increases awareness and understanding of the importance of exports to the US economy through education, legislative outreach, and engagement with DECs and other relevant stakeholders.
International Trade Administration (ITA)
The ITA is a superb resource to assist you combat problems. Staff at the ITA are resident experts in advocating for U.S. businesses of all sizes, customizing their services to assist solve trade dilemmas as efficiently as possible. The ITA makes it easy to report an export barrier, even allowing you to submit your report online.
U.S.-Mexico Chambers of Commerce
Chambers of commerce could also be how to assist you when exporting to Mexico. The United States-Mexico Chamber of Commerce is the leading binational business organization working to build mutually beneficial trade and investment relationships in the Americas.
WHAT DOCUMENTS NEED TO BE DECLARED ALONG WITH YOUR MERCHANDISE AT MEXICAN CUSTOMS
Every country has its own regulations and shipping requirements so it's important to be aware of this information before shipping to any country. Export documentation and procedures for Mexico are as critical as they are for any other country. Consistent with Export.gov, Mexico isn't subject to any special U.S. export control regulations.
If you are at the point of preparing your exports to Mexico, make sure you have the following documents to complete your shipping process:
A commercial invoice (in Spanish)
Bill of lading (signed by both the buyer and carrier with details of the goods sold, the place of origin, and the quantity of goods)
USMCA Certificate of Origin (only if goods qualify for USMCA)
Packing List (which details the contents of the cargo with regard to weight and the type of materials the transporter is carrying)
Sales contract
Proforma of commercial invoice
AES filing
Customs declaration
Insurance policy
If you are looking for more information on why choosing Mexico as a business partner, you may also like to read this article: export to Mexico.
COMPLEXITIES OF MOVING FREIGHT BY CROSSING BORDERS
As mentioned earlier, there is a vast sea of complexities when it comes to moving freight from America and taking it into Mexico. Not taking into account the uncertain conditions of today due to the Corona Virus, Mexico has often proven to be quite a problematic destination for most freight companies. More often than not, if a logistics company does not know its way around uncertain situations, things can go wrong for both the shipper as well as their partner.
Security threats, unreliable carriers, paperwork, complexities in the customs, and a process that is already full of tons of difficulties create tons of difficulties for freight companies. Although most logistics services, especially the ones that have completed their fair share of transportation tasks know their way around the above-mentioned problems, there is still a lot of risks involved.
One mistake is all it takes for everything to go wrong in cases like these. A simple mistake like missing paperwork or stolen good could cost the shipper thousands of dollars when declaring in front of Mexican customs.
DELAYS ARE THE # 1 PROBLEM CAUSED BY IMMIGRATION PROBLEMS AND THE CORONAVIRUS NEW CUSTOMS PROCEDURES.
It must be abundantly clear by now that freight delays are quite common with the US-Mexico border. There are very few ways to reduce these freight delays, one of which is reducing the amount of would-be immigrants and migrants that mostly make their way from Central America. Their main goal is to make an attempt to enter the United States either through asylum claims or illegally.
A year ago, the U.S Border Patrol took into custody, more than 130,000 migrants who were making an attempt to cross the border in the Southwest. Close to 80 percent of these migrants came from Central America.
With numbers as high as these, there is a lot of pressure on CBP (U.S. customs and border protection). Their resources get overutilized because of this and cause a negative impact on travelers and freight companies trying to make their way into Mexico legally.
Experts say that the migration impact is virtually unavoidable for now because of the heavy load as the customs and border protection have to separate the legitimate shipments and the illegal shipments. It is a time-consuming process and is a major reason for most of the delays.
An expert claims that trading cross-border is a street that goes two ways. It is vital to remember that there are tons of companies that send their materials and components for Mexico for the purpose of processing at a cheap cost in maquiladoras and bringing finished products back again. Only the shippers who think differently will be able to avoid paying high costs and go through the narrow cross-border funnel once they ship.
CHOOSING A RELIABLE PARTNER FOR TIMELY BORDER CROSSING
With so many obstacles and challenges present in cross-border transportation between the U.S and Mexico, it is important to choose a logistics company that knows what it is doing. Here are some things that you need to consider when choosing a reliable partner.
Experience with Customs
You should look for a provider with a decade's worth of experience to guide you through the process. This experience will come in handy to ensure that you submit the correct paperwork and send it on time. And, in case there are any mistakes, the logistics provider will quickly be able to maneuver the predicament in the shipper's favor. The freight partner should also have a good reputation and relationship with border agents.
Security Oriented Mindset
Every responsible freight partner knows how important security is, especially when it comes to crossing borders. Maintaining responsible practices helps to maintain the freight's integrity while also reducing negative exposure of the brand. It can also help shippers save money and time.
Logistics providers who look after freight all over North America should be associated with organizations like CTPAT and PIP as they have a firm stance against terrorism. Being associated with organizations like these also helps the freight partner get the goods through customs pretty quickly as they are considered as low risk.
ILS KNOWS WHAT TO DO FOR FASTER SHIPMENTS
There are very few logistics services that fulfill the criteria of experienced shippers. ILS happens to be one of the few that these shippers rely on with their eyes closed. Why is that? You may ask. Well, ILS has a reputation for getting shipments across borders faster than most logistics services.
Strong Team for Import and Export
One of the reasons why ILS is so fast is because of its experienced import and export team. These team members know the border crossing processes by heart, which allows them to come up with alternatives within minutes in case there are problems.
*FAST Drivers and CTPAT Carriers
There are certain situations when there is no other option but to rely on *FAST drivers (Facility Access and Shipment Tracking) or CTPAT carriers. Luckily, ILS has to access to both of these, making sure that your freight crosses the border smoothly and safely.
Are you aware of the current situation, especially when it comes to regulations in Mexico?
Talk to the experts in the department of transportation & customer service!