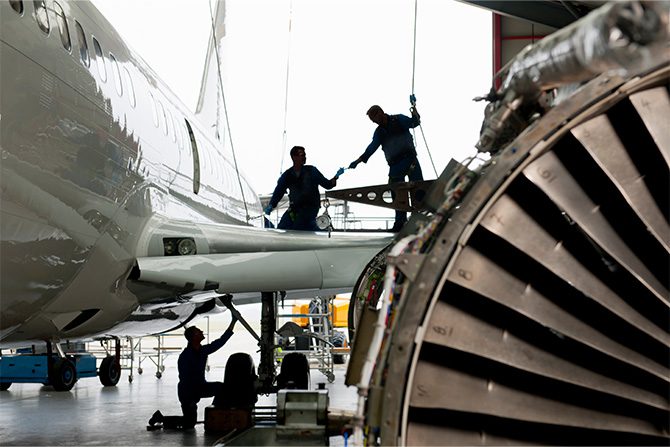 When it comes to shipping aerospace components, every detail counts. Even the slightest damage or delay can have significant consequences for the end product and, ultimately, the safety of the people who use it. That's why you need a certified, experienced, and reliable partner for shipping your goods.
How Should Your Logistics Partner Be?
Certifications
Certifications are the first aspect that you should look for when selecting a logistics partner for shipping aerospace components. The certification process ensures that the shipping company meets industry standards for quality, safety, and reliability. The certification should be issued by authorized organizations, such as the International Air Transport Association (IATA) or the Federal Aviation Administration (FAA), which have strict criteria for qualification. A certified partner transports the products in compliance with the regulations, and monitors and tracks the entire shipping process for accuracy and timeliness.
Long Track Record
Experience is another essential factor to consider. The transportation of aerospace components requires a high level of expertise and attention to detail, and an experienced shipping partner has a good understanding of the industry's specific requirements. This helps minimize the risk of delays, damages, or other issues that could impact the quality and safety of the components.
Reliability
Your business depends on the timely delivery of your products, and any delays or errors in shipping could have significant consequences. Therefore, you need a reliable shipping partner who can provide dependable service consistently. They should also have a customer service team available to address any concerns or issues that may arise during the shipping process.
The Aerospace Industry in Mexico
Mexico's technical and engineering capacity makes it an attractive place to invest in. For that reason, Mexico has become an important country for aerospace manufacturing, Particularly in aerospace part production and aerospace manufacturing as a whole. It has seen consistent year-over-year growth for nearly all of the past decade. In addition, Mexico has innovation centers, which are considered the basis for adding more value to its exports. In 2022, the aerospace manufacturing sector alone had overseas sales of US $8,000 billion, according to FEMIA data.
The Mexican aerospace industry has five main hubs, located in the states of Baja California (Tijuana-Mexicali), Sonora, Chihuahua, Querétaro, and Nuevo León.
Chihuahua's aerospace sector plays a key role in the context of the national industry. It is home to 25% of the country's aerospace manufacturing plants, as well as one of the largest sources of manufacturing employment. Besides, Querétaro accounts for 45% of Foreign Direct Investment in Aerospace Manufacturing in Mexico, ranking fourth nationally in the export of aircraft parts, and is the most prolific importer of aerospace parts used in manufacturing.  Purchases of these items totals US $24 million.
Thanks to the nearshoring boom, large manufacturing companies in the United States and Canada are demanding suppliers with a presence in North America or in the region, and this is where Mexico has a great opportunity due to its capabilities, proximity to the United States, the facilities at its disposal, and its knowledge of the sector.
Aircraft Transportation Solutions
Whether you need to move a small single-engine aircraft or a large commercial airliner, various aircraft transportation solutions are available to suit your needs.
Road transportation is the most common and cost-effective way of moving small aircrafts. As a result, LTL (Less-than-Truckload) shipping is a solution for shipping smaller shipments that do not require a full truckload.
Air transportation for larger aircraft, or for longer distances, is a popular option.
Sea transportation is a cost-effective option for moving large aircraft or for international shipping.
In conclusion, the best way to move your aircraft is by choosing a certified, experienced, and reliable shipping partner to ensure the safe and timely delivery of your products. The certification process ensures compliance with industry standards, experience brings expertise and knowledge, and reliability ensures consistent and dependable service. By choosing a partner who meets these criteria, you can have peace of mind knowing that your products are in safe hands and will arrive at their destination in the expected condition and on time.
For this industry, The ILS Company has a proven track record with excellent customer service and highly qualified domestic and overseas shipments. We have supported OEMs, Tier 1 (manufacturers making principal aircraft systems), Tier 2 (companies making sub-assemblies), and Tier 3 and Tier 4 (suppliers providing parts and raw materials) in their supply chain. Our experience over the years has allowed us to offer a fast and efficient service with a promise of delivery within 24 hours because we understand the need for precision. You can also count on a competitive price, paying only LTL service with the guarantee that your aircraft is insured all the way to its final destination.
What other benefits do you acquire with ILS?
Every customer has complete access to real-time data and GPS, so you can track where your aerospace components are going.
The highest standards of quality assurance are key to the way we work. You can have peace of mind for the reason that you are working with a certified partner that complies with all regulations for safe transportation.
We have the potential to help your business grow in the American and Mexican markets. Consult with an expert to learn more about our LTL aircraft shipping service.