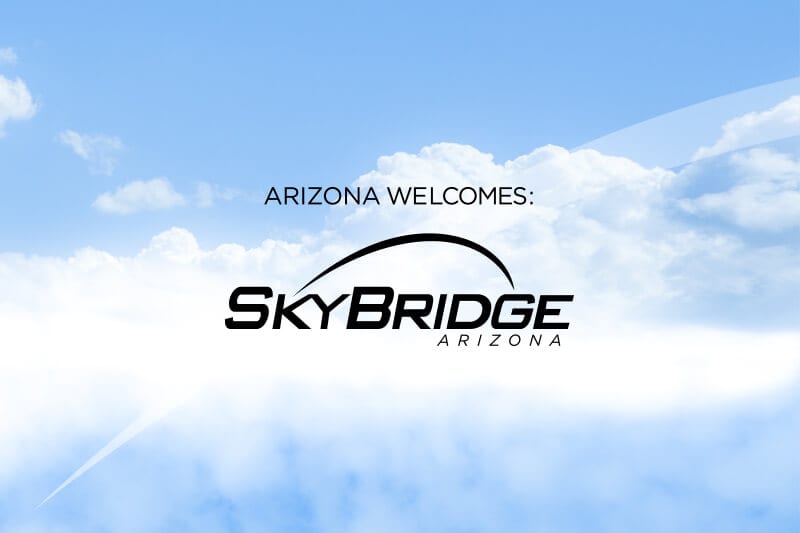 The launch of SkyBridge is Arizona's way of stepping up to the plate as a national leader in the logistics sector. Governor Doug Ducey announced last January with a promise of tens of thousands of new jobs, increased revenues for area cities, and a business-friendly international freight process to and from neighboring Mexico.
According to Mesa Major, "this project will transform Mesa into an international e-commerce hub, benefitting not only our city but also our state and the Arizona-Mexico region as a whole."
News earlier this month at the annual Arizona-Mexico Commission in Tucson, mention that "Taking this advantage of being able to Pre-Clear product and ship it that day to any airport around the country without having to go through customs in Mexico is a great opportunity."
At its core with the first-of-its-kind hub, products can reach markets all over Mexico in a matter of hours instead of days by other modes of transportation. Shippers will be able to send products from AZA to anywhere in Mexico without needing to go through the Mexico City customs center.
This really will be a game changer in cross-border business
Expanding operations in Mexico and increased collaboration between power players Mexico and the United States are changing the way goods are moved both between Mexico and Asia and throughout North America.
Arizona's proximity to Mexico and its business-friendly environment makes the state a natural hub for air-cargo companies, large and small, eager to grow their business on both sides of the border. And, Arizona knows how to do business with Mexico.
CBN Exclusive interview with SkyBridge Arizona CEO Ariel Picker
"The service is intended to allow e-commerce companies and manufacturers doing business throughout Latin America to transport goods between the United States and Mexico in the most efficient and cost-effective manner possible", according to a media release from Arizona Governor Doug Ducey's office.
The Unified Cargo Processing program, which is jointly carried out by U.S. and Mexico customs officers, began last year as a pilot program in Nogales, Arizona. It has now been expanded to the rest of the Ports along the border currently processing incoming and outgoing freight bound for both the U.S. and Mexico at U.S. Customs hubs.
SkyBridge Arizona by the Numbers:
Picker estimates that more than 17,000 new direct and indirect jobs will result from SkyBridge.
Nearly 10,000 will be employed in jobs directly related to SkyBridge, more than 2,400 in construction alone.
Additionally, Phoenix-Mesa Gateway Airport expects an initial increase of 2,000 additional cargo flights per year – which climbs to 10,000 by 2036. These additional flights benefit local and state coffers through increased taxes and fees.
Growth of air freight between Arizona and Mexico has grown 30 percent per year, or 180 percent from 2011 to 2015, outpacing all other modes of transport.
Air freight trade between Arizona and Mexico currently totals $390 million per year.
The state also outpaces all of its Southwest neighbors of California, New Mexico, Nevada and Texas, whose air freight traffic grew by just 10 percent during the same period.
Do you need a reliable North American Logistics Partner?
ILS provides Transportation, Warehousing & Logistics Services in US & Mexico.
Send us an email and we can build a solution for you!
[wpforms id="5636″ title="true" description="true"]
The ILS Company has been shipping internationally for 17 years. The ILS Company's mission is to contribute to the competitive advantage of our Customers by providing reliable, timely and integrated logistics services, information, and customized solutions in transportation, distribution, storage, and customs; always maintaining the integrity of goods and consistently delivering excellent Customer service. The author can be reached at [email protected]