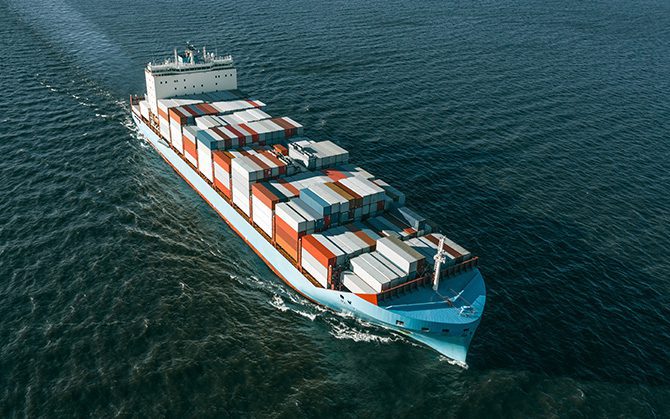 Ocean shipping has grown significantly in recent decades as a result of increased trade and globalization. Ocean freight, also known as the "lifeblood of global trade" is the most common international transportation route for traded goods and the backbone of the global supply chain. It accounts for over 80% of the total global trade volume.
Over the past few years, many restrictive maritime regulations have been removed, resulting in a highly liberalized international shipping industry.
In this post, we'll go over some of the most important aspects of sea transportation, as well as the many types of cargo, the benefits and drawbacks of using ocean freight, and how to find the best freight forwarder for your needs.
Ocean freight shipping's main characteristics
Ocean freight shipping is one of the most popular services around the world. The majority of commercial transactions take place through the sea. Here's a shortlist of the top 3 elements that make this industry unique:
Container load
The boats and containers used by international freight forwarders can fit almost any type of product. In order to standardize a ship's capacity, the number of containers a ship can load is translated into a number of 20ft containers and that measurement is known as TEU which stands for "Twenty-foot Equivalent Unit". You can ship a significant volume of goods with ocean freight using containers that can hold up to 18,000 TEU.
FCL VS LCL
Flexibility is one of the highest assets of ocean shipping. Whether you are a small company or a global corporation, there's always a solution to move your merchandise. Full container load FCL means that, as a shipper, you can fill a full container on your own. On the other hand, less than container load (LCL) is an ideal solution for companies that can't fill a container on their own and will have to share the space with products from other shippers. Make sure you know what to choose when getting in touch with freight forwarders for a quote.
International Reach
When it comes to ocean shipping, there are literally no boundaries. The Suez Canal was built artificially between 1859 and 1869 to provide a new and much faster sea route connecting Europe and Asia. Years later, in 1914, the Panama Canal opened, allowing ships to cross to the American West Coast without circumnavigating South America. When it comes to moving your merchandise by sea freight, the world is now connected through specific maritime routes, giving you a global reach.
Containers vs Breakbulk
There are two main types of cargo: bulk cargo and container cargo. Bulk cargo is ideal to transport goods that do not require packing or packaging, such as coal, cement, grain (wheat, corn, rice, soybeans), sand, gravel, oil, gas, etc. while container load implies the use of 20 or 40-foot containers.
Container loading
Shipment by container load continues to be the preferred method for export and import goods because it is much more efficient, allowing ships to spend less time in port. Containers come in a variety of sizes and shapes, as well as a variety of specific constructions, to suit a variety of cargo kinds. The most popular container size is the 20-foot container, which works well for startup businesses overseas.
Bulk Cargo
Bulk cargo can be divided into three categories 1. Solid Bulk. 2. Liquid Bulk. 3. Break Bulk. Although bulk cargo and breakbulk cargo sound similar, they are two completely different methods of shipping cargo. Each type requires a suitable vessel and corresponding infrastructure. Bulk cargo generally refers to large quantities of product loaded loosely and directly onto the transport vessel, without packaging. In contrast, breakbulk cargo refers to individually packaged items (boxes, drums, crates) loaded onto ships without being stored in a larger container, such as the standard intermodal container.
Oil tankers
Oil tankers are ships designed for the transport of crude oil or petroleum products. They are the largest ships and are classified according to their cargo capacity. Supertankers can carry 500,000 tons of cargo.
PROs and CONs of Ocean shipments
Like everything in life, maritime transport also has its PROs and CONs. Please find below a shortlist that summarizes the advantages and drawbacks of using ocean freight.
PROs of Ocean freight
The advantages of maritime transport are many, we have already mentioned some of them previously. Without dwelling on the type of product you want to transport, these are the main advantages of using sea freight:
Cost-effective: sea transport continues to be the most economical in general terms for international long distances.

Reach: the scope of this means of transport has no limits since two-thirds of the planet is covered with water.

Flexibility: no matter the size of your cargo, you can always choose between FCL services or LCL services.

Safety: by following pre-established routes with little traffic, accidents or delays in deliveries are unusual

Weight limitations: weight limitations are less restrictive compared to air transportation.

A high volume of cargo: you have the possibility of moving loads with larger dimensions than those that are allowed by plane
CONs of Ocean freight
Despite the big advantages maritime transportation has to offer, there are also a few drawbacks you need to know. In many cases, they do not harm the logistics operations or have any incidence on the supply chain, but it is worth knowing about them:
Duration: the main disadvantage of maritime transport is the time required to cover the distances between ports, having to go around the continents.

Weather: depending on weather conditions, the departure of a merchant ship or the arrival of cargo at the port may be delayed.

Low regularity: this type of transport requires prior preparation before setting sail, so it is not possible to have scheduled departures from one day to the next or urgent departures as there are other means of transport.

Planning based on time: Due to the long journey of most shipments by ocean transport, they must be planned in advance so that the dates coincide and the merchandise is delivered without delays.

Complimentary transportation services – Unless your final destination is a city with a port, you will have to hire complimentary transportation in order for your product to reach its final destination.
What type of ocean freight forwarders should you choose?
It all depends on the volume, recurrence, and nature of the merchandise you want to move. For small quantities with thin price margins, choosing a freight forwarder offering you less than container load LCL would be your best option.
If, on the other hand, you need to move a large amount of merchandise, whether in bulk, large structural parts, or a massive amount of perishable products, such as fruit or vegetables, opting for the maritime charter or full container load FCL would be your best decision.
If you are looking for an efficient service and competitive rates, our team of professionals at the ILS Company is ready to handle your ocean freight needs. Whether it's one pallet or several containers. We have a vast network of suppliers to provide you with a competitive option. Get in touch and we will do the rest.