In recent years, manufacturers in Mexico have been growing at a rapid pace. Foreign direct investments have enabled different manufacturing clusters to flourish. Mexico's industrial success depends on its access to worldwide markets and local suppliers. The U.S. and Mexico also operate two-way trade which essentially transports products from one place to another across borders to collect parts manufactured within both countries.
While Mexico has thousands of maquiladoras producing a wide range of commodities, the country focuses on three key manufacturing industries: automotive, medical devices, and aeronautics. If you are looking forward to knowing more about manufacturers in Mexico, keep reading.
Manufacturers in the automotive sector
By 2022 nearly 800,000 workers will be employed in the automotive sector in Mexico. They are mainly engaged in the production of car parts. Mexican car companies are located in the colonial heart of Mexico in states like Guanajuato, Querétaro, San Luis Potosi, Aguascalientes, and Jalisco. The northern border zone hosts as well important clusters in states like Baja California, Chihuahua, and Coahuila. Most of these Mexican companies assemble up to 40% of their cars from car parts produced by US car companies such as Ford and General Motors.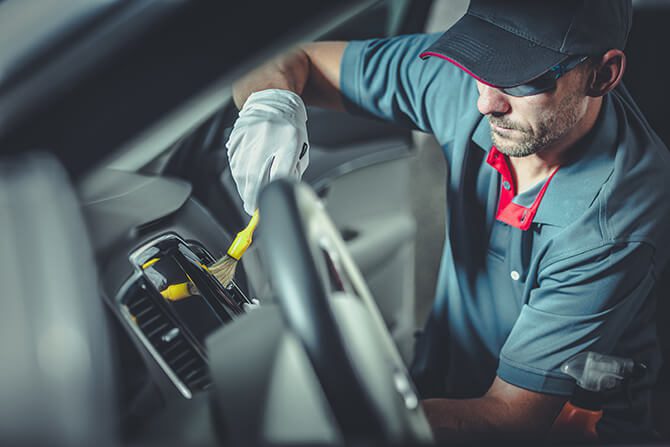 By 2022 nearly 800,000 workers will be employed by the automotive sector in Mexico
In 1925, Mexico had its first Ford automobile assembly plant in Mexico City, inaugurated by Henry Ford himself. Today, Ford, General Motors, Stellantis, Toyota, Mazda, Nissan, Infiniti, Honda, KIA, Hyundai, Mercedes-Benz, BMW, Audi, and Volkswagen assemble vehicles in our neighbor country. Even with a year and a half of pandemic and semiconductor crisis in tow, Mexico is the sixth-largest producer of vehicles in the world.
Mexico produces a lot of cars every year. It has made 44 million since 2005. New models like the Ford Maverick and the BMW 2 Series Coupé are being manufactured there. Mexico has positioned itself as a country at the forefront of world industry, producing also electric and hybrid cars, both international and national, for companies such as Ford and Audi.
Manufacturing companies in the aerospace sector
Despite the effects of the pandemic, Mexico's aerospace sector has remained stable. Building satellites alone represents a $12.5 billion dollar market. In Mexico, a new stage in the development of space travel is expected as the country has emerged as a major player in satellite manufacturing, accounting for 20% of the global market for this technology.
Most of the aerospace production made in Mexico (85%) is sent to the countries in the NAFTA agreement (now T-MEC), in short, the United States and Canada. Only 10% goes to countries in the European Union. According to a recent story in local newspapers, Mexican Secretary of Foreign Relations Marcelo Ebrard received a phone call from Elon Musk, the founder and CEO of Tesla and SpaceX. Musk was complaining about plants that were paralyzed, slowing down the production in the United States. A total of 127 manufacturing companies from Puebla to Chihuahua and other parts of the country were involved.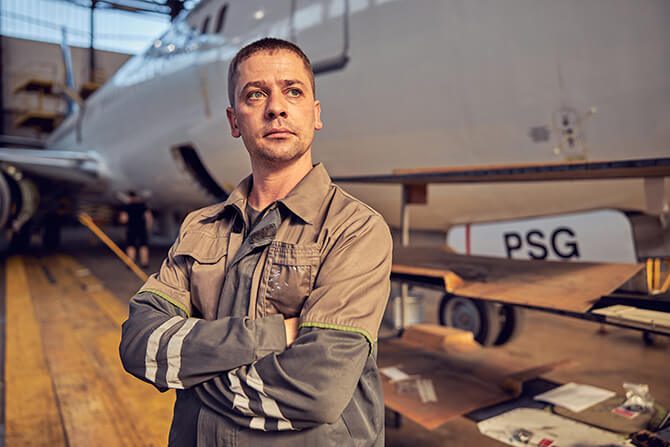 Mexico counts 300 companies working in the aerospace sector.
Currently, in Mexico, there are more than 300 companies in the aerospace sector: 80% of these, are manufacturing companies, while 20% offer design and engineering services, as well as maintenance, and operations. Baja California is home to one of the most important entities for the development of the aerospace sector. After more than 40 years of producing goods for this sector, industrial activity is highly consolidated there. In the central region, Querétaro is the capital of the aerospace sector. The entity has received the most foreign investment in the industry in the last five years. New partnerships are signed every year between companies, universities, and the government to keep developing the sector. Querétaro stands out for having the only testing laboratory in Latin America, made up of three research centers, and the only national university focused on the study of aeronautical issues, which has educational programs tailored for that sector.
Manufacturing companies in the medical device sector
The medical device industry in Mexico is also very important for the country's exportations. Globally, Mexico ranks as the 8th exporter in the world, 1st in Latin America, and number one supplier of the United States according to the Mexican Association of Innovative Medical Device Industries (AMID). In Mexico, this sector has more than 40 production plants, generates more than 130,000 jobs, and 4,909 million dollars in market value, based on data from the AMID.
The outbreak of the new coronavirus (Covid-19) in the world caused an increase in the demand for medical supplies. For this reason, this industry in Mexico intensified its strategies to be able to satisfy the requirements and respond quickly to the demand. The most important clusters of this industry are located in the north of the country: Tijuana, Tamaulipas, Ciudad Juárez, and Nuevo León. According to Cecilia Varela, director of the Bio Juárez Cluster, more than 35 companies manufacture this type of product in the region. Approximately 95% operate in Ciudad Juárez and employ about 40,000 workers. The Juárez-El Paso region is the main supplier to the United States and, in terms of foreign investment, the state of Chihuahua registers 73.45 million dollars, surpassing other states such as Baja California and the State of Mexico, Sonora, and Tamaulipas.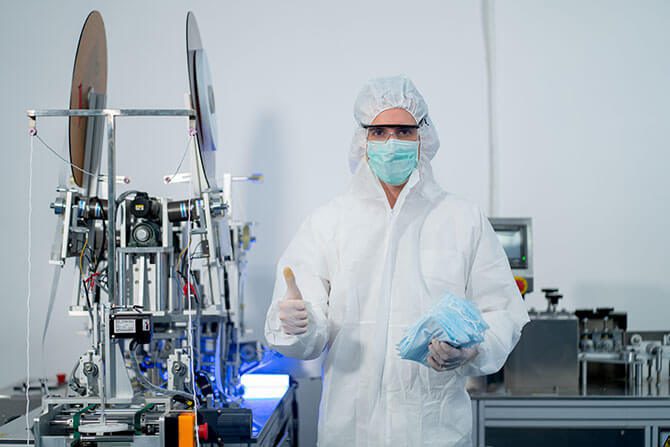 Production of face masks in Mexico ramped with the arrival of covid-19.
Mexican companies maintain the production of essential medical supplies and equipment, despite severe supply chain disruptions due to the large number of raw materials leaving Asia and other sites affected by Covid-19. With the arrival of the covid, some companies now produce face masks, masks, and surgical gowns, among others. Two examples are Avicos Automation, which currently manufactures fans; and Comercializadora GTZ, a manufacturer of textiles and consumables, which now makes washable face masks.
Final thoughts on manufacturers in Mexico
Mexican manufacturing industries are thriving. There is a high demand for products in Mexico that manufacturers can satisfy by producing goods with competitive prices and quality standards, which they have been doing successfully for decades. Mexican companies maintain the production of essential medical supplies despite severe supply chain disruptions due to the large number of raw materials leaving Asia and other sites affected by Covid-19. The automotive industry has grown significantly over the past decade thanks to tax incentives offered by the government, making it an attractive place for investment according to many analysts. Aerospace firms enjoy benefits such as preferential access to government bidding processes, lower labor costs than their competitors abroad, and close proximity to major airports like Querétaro International Airport (QRO) or Chihuahua.
IMPORTANT: We do not create a company or manufacture something for you in Mexico. We assume that you already have a company and a product that you want to move between Mexico and the USA. We only take care of storing your merchandise in one of our warehouse centers and all transportation, whether by land, air, or sea.