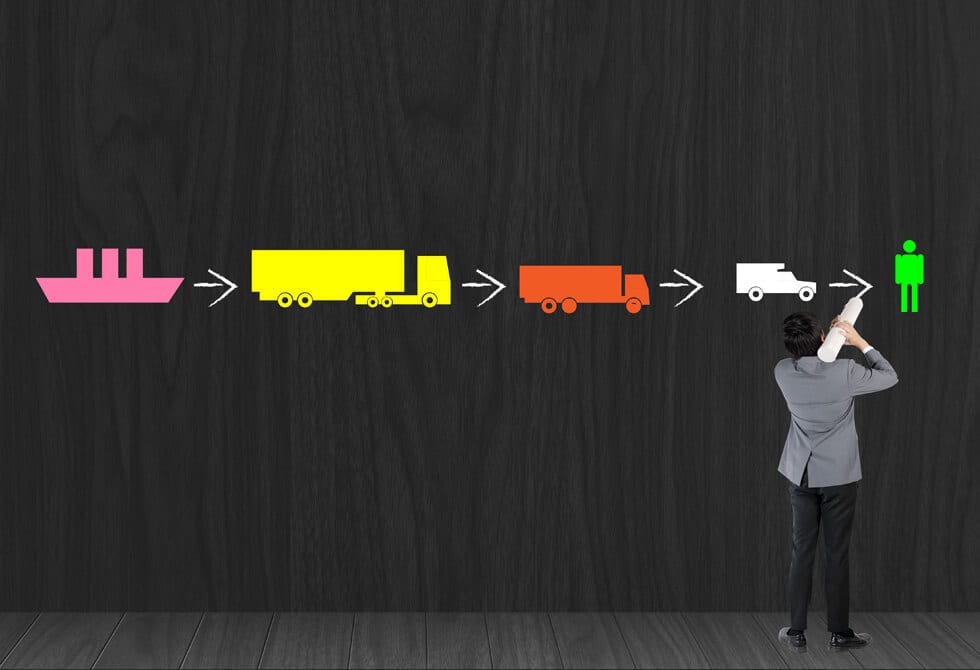 Logistics and supply chain management are two terms that are often mistakenly treated as synonymous. The fact is that, although they are practically inseparable and complementary, they have different definitions. In general, the supply chain can be defined as a global and broader term than logistics. In reality, logistics is an essential component of the supply chain. Keep reading to know the distinctions between these two words and what separates each of them.
Difference between logistics and supply chain
Logistics refers to the purchase and delivery of raw materials, packaging, shipping, and transportation of goods for distribution. On the other hand, supply chain is a broader concept of which all individuals, organizations, resources, activities and technology play a role in the process of product distribution. This includes everything from the supply of source materials to the manufacturing and delivery of the product to the client's hands.
Logistics is therefore, part of the supply chain. While the latter manages the supply chain 'end-to-end', logistics is an activity within the supply chain.
On the opposite, logistics can be internal or external. The first consists of all the actions required to acquire different types of materials, handle them, keep them in a warehouse and transport them, while the second one, consists on collecting, transferring, and supplying products to the customer. External logistics includes order planning and preparation, as well as vehicle fleet management and cost management. Yield optimization based on guidelines for proper fuel consumption is a major topic on this field.
So what is logistics?
Although there are differences of opinion about the origin of the term, there is a certain consensus that the origin of the word logistics comes from the war realm, specifically in the operations of transferring people and belongings to the armies. From there, the subsequent jump to the context of the movement of commercial goods within a supply chain took place. Today, logistics refers to a collection of operations for the effective transportation and storage of goods. These operations are those that go from the point of origin to the point of consumption.
Logistics companies provide their services to manufacturers, retailers, and other industries that have a demand for freight transportation. They can be specialized in road, sea, air or rail transportation. It is common for manufacturers and certain retailers with a significant volume of business to own their own logistics network. Although, many other companies prefer to outsource this activity to a trusted partner.
The supply chain
We call supply chain management all those actions that have as a purpose the integration of all the activities of the supply chain. Unlike logistics, which involves a single organization, the supply chain affects different companies. While the goal of logistics is to meet customer needs in a timely and profitable manner, the goal of the supply chain is achieving a substantial competitive advantage. The main functions of the supply chain are:
Sales. In a coordinated manner with suppliers, it consists of the acquisition of raw materials and other resources for the manufacture of merchandise.
Operations. Planning, forecasting, and anticipating the demand.
Logistics. It ensures that the goods reach the point of delivery in time and manner.
Resource management. Resource allocation to optimize production and drop the prices of operations.
Information workflow. Exchange and distribution of information on all the processes covered by the supply chain.
The benefits of logistics management and supply chains
The differences between logistics and supply chain management do not exist when it comes to value. Within any supply chain there are 5 key values ​​and, as far as they are concerned, they are perfectly aligned to both concepts:
Achieve a more competitive supply chain by ensuring lower prices for the end-user and reducing costs.
Bet on continuous improvement, working based on the establishment of indicators and the analysis of metrics.
Promote agility in processes and, therefore, the flexibility of the chain and its components.
Emphasize collaborative planning, articulated on the shared management of resources.
Ensure visibility because it improves forecasting, orders, shipments, and inventory management results.
Logistics vs supply chain management is a very partial approach since, despite the differences, in practice, both are inseparable and each one is complementary of the other.
Current challenges in logistics and supply chain management
Today it is essential to create and develop logistics systems capable of reducing stocks and breakages, extra handling processes, storage time and the use of transport. Modern companies need a logistics service capable of optimizing shipments to the maximum, improving the flow of information, effectively controlling product replacement and drastically reducing administrative expenses.
A supply chain is in charge of creating a greater offer by increasing the number of product references with a shorter life, a greater use of technology and a complete adaptation to price fluctuations and international laws.
Logistics and supply chain are two different and highly topical concepts. New trends are shaping the future of this 2 fields as it's the case of the supply chain 4.0.
Trends in supply chain management or supply chain 4.0
Supply chains are shifting towards a logistics ecosystem characterized by being faster, more flexible, more personalized, more precise and more efficient. As we saw in our article 5 trends that will shape the future of supply chain, new digital technologies and robotization are shaping a new concept of supply chain. What are the elements that define the concept of supply chain 4.0?
1. The use of technology to capture and manage data
With increasingly extensive and complex supply chains, information management has become an essential aspect to meet the demands of the market. The following are the three most important questions that technology must answer in order to master the supply chain:
Data precision for stock management: with more and more stored SKUs, having the exact inventory data allows not only to optimize the stock in the warehouse, but also to ensure an optimized level of service, avoiding undesirable out of stock scenarios. This is made possible by the use of warehouse software that makes stock management easier.
Merchandise traceability: When traversing global supply chains, logistics traceability has proven to be an exceptional control complement to manage material flows, both internal and external. Maintaining a traceability system is only possible thanks to barcode or RFID tracking tools, data capture devices and software that manages the information shared in the supply chain.
Comprehensive KPI monitoring: supply chain analytics softwares enables monitoring of all warehouse activity and its connection to the rest of the supply chain's ties so that these activities do not serve as a bottleneck for intra-logistics flows.
2. Integration between the various parties involved in the supply chain
The strategy for selecting supply chain partners is increasingly focused on removing barriers between suppliers and creating a cooperative partnership.
This is done by integrating the standardization of procedures with the preparation of tasks. An advanced knowledge management software is needed to have the whole picture and analyze the supply chain from a wider perspective.
3. Process automation strategies for greater precision and speed
The industrial automation that is already applied in the manufacturing and product transformation processes has made the leap into the supply chain field and is present in the different areas of logistics:
Warehouse activity management: in increasingly complex facilities, warehouse management systems have made it easier to organize operation and inventory. In this way, it emphasizes its role in streamlining order planning tasks in conjunction with devices like voice and light picking. All of this has resulted in higher picking ratios per hour and per operator, as well as the elimination of virtually all errors.
Automated transport of loads in intra-logistics processes: the flow of products is generally at the forefront of automation programs. In reality, today's robotic warehouses employ a variety of automated systems in order to speed up material flow and increase facility security.
Routes and transport management: transportation management systems (TMS) are essential to coordinate the distribution of goods between the different nodes of the supply chain. These systems allow routes to be organized depending on logistics parameters such as delivery times and also include strategies such as consolidation of goods.
Final thoughts
Effective supply chain management cannot be conceived without optimizing company logistics. As we have seen, the two are more interrelated than ever and their objectives must be aligned to contribute to the profitability of the company. At the ILS company, we can help you determine and achieve your logistics objectives based on warehouse management. Our third-party logistics company assists businesses with international exports, imports, and a wide range of other services.
To learn more about how we can help you set up international shipping and import/exports, call us at 1800 ILS9712 or get in touch through our chatbot in our website.
Our services make us the strongest link in your supply chain.