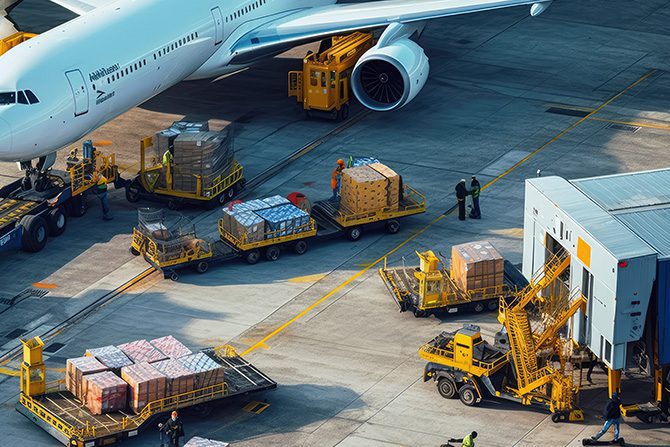 In today's fast-paced and competitive business world, optimizing your supply chain is more important than ever. With consumer expectations for speedy delivery and expanding global trade, making the right choices in your supply chain strategy can mean the difference between staying ahead and falling behind. One strategic move that is often overlooked is partnering with an Indirect Air Carrier (IAC), a decision that can significantly improve your supply chain efficiency.
A Trusted Partner for Supply Chain Excellence
An indirect air carrier is a key player in the logistics industry, working with an IAC and how it can lead to a more optimized supply chain:
By not operating their own aircraft, IACs have the flexibility to put cargo in the belly of passenger aircraft, which is one of the most cost-effective ways to move air cargo.
More routes, more options
When you send a package through a direct carrier like UPS or FedEx, you're tied to their routes and their schedules.
An Indirect Air Carrier will search for the best option for you with different airlines.
Flexible and customized solutions
IACs understand that one size doesn't fit all when it comes to logistics. They work with you to create customized solutions that align with your supply chain goals.
Finally, if you choose an experienced freight forwarder operating as an indirect air carrier, you'll find yourself working with a partner who's shipped everything under the sun.
Global reach, local expertise
IACs have extensive networks and local knowledge to navigate the complexities of international logistics. Their global reach ensures that your freight reaches its destination efficiently, no matter where it is going.
IACs specialize in airfreight logistics, which means they have streamlined processes. This efficiency translates into faster transit times, lower costs, and fewer delays for your shipments.
The world of air cargo regulations can be confusing. IACs are well-versed in these regulations and will ensure that your shipments meet all necessary requirements, reducing the risk of costly compliance issues.
Also:
Each IAC must adopt and carry out a security program that meets TSA requirements.
The Competitive Edge: Leveraging Indirect Air Carriers as Freight Forwarder
In today's global marketplace, where supply chain efficiency can be a competitive advantage, partnering with an indirect air carrier isn't just a smart choice, it's a strategic imperative. This partnership opens doors to a world of opportunities for your business:
Safely deliver your goods on time: IACs help expedite your products to new markets, enabling faster time to market and ensuring that your products reach customers promptly.
Communication it's all: By sharing information, expectations, and challenges, you can unlock the full potential of your logistics strategy and ensure that your freight arrives on time, on budget, and in top condition.
Maximize profits: Reduced logistics costs and improved transit times can have a direct and positive impact on your profitability. You'll find that your supply chain runs more efficiently and cost-effectively.
Focus on core competencies: By outsourcing your air freight logistics to an IAC, you free up resources to focus on your core competencies, such as product development and customer service.
Risk mitigation: When you work with an IAC, you're getting the expertise you need to mitigate supply chain risks. From security to contingency planning, they'll ensure the safety and timely delivery of your freight.
Partner with an indirect air carrier for a winning supply chain
In summary, partnering with an IAC is a strategic decision that can revolutionize your supply chain. The benefits are clear: cost savings, efficiency gains, and the ability to expand your global reach. With your supply chain operating at peak efficiency, your company can remain competitive and agile in a dynamic market environment.
Unlock your supply chain's full potential today. The ILS Company's experience can transform your logistics by optimizing your supply chain and gain a competitive advantage in today's business environment. Success in the global marketplace starts with the right logistics partner.
Contact us now to start improving your supply chain efficiency.