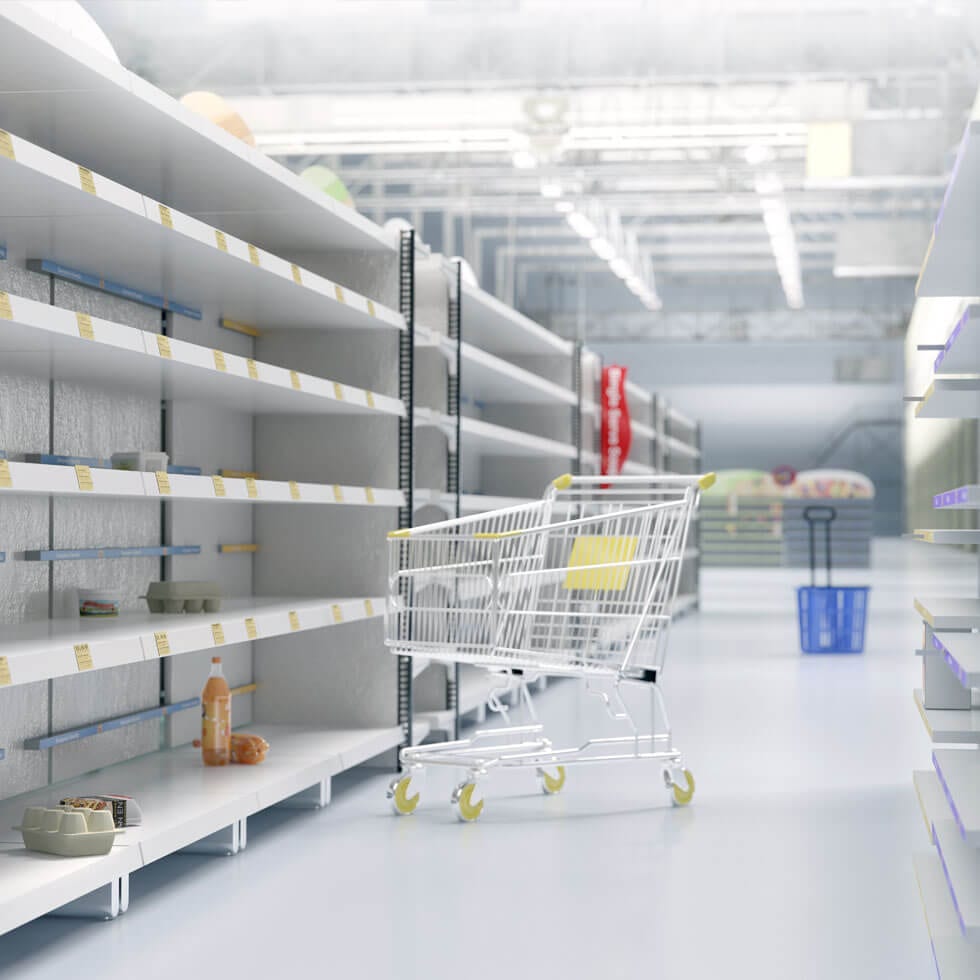 How the world looks like without transportation services
Imagine you wake up in the morning, head to the kitchen to grab a cup of your favorite coffee, but what do you see instead is an empty pot! You quickly grab your coat to make a run to the grocery store to buy your coffee and all your items on a shopping list. The moment you step out, you take a pause to check for the delivery of your new gadget that you had ordered weeks and weeks before, but all you see is an empty mailbox. While you dejectedly close the mailbox, you get a glimpse of the trashcan from the corner of your eye; you see that the trash has not been taken out. And right there in that very moment, you realize that the whole world has come to a halt.
Just imagine a world where nothing was delivered or transported between places. Not only is logistics vitally important to the distribution industry, but it has also made distribution prompt and efficient. This is not an apocalyptic situation but a world without logistics.
How we as logistics professionals are important to the world
Today, all industries are dependent on the logistics sector and play a critical role, particularly in support of getting the product to the right place and the right time. Domestic competition and saturated markets, in particular, have led to the need for professionals in companies to become more competitive and thus effective and efficient in all their operations, with logistics being no exception. Many discussions on logistics, in fact, refer to the competitive advantage which logistics efficiencies provide for a company.
To understand this role from a systems perspective, consider that if goods do not arrive on time, customers cannot buy them. If goods do not arrive in the proper place, or in the proper condition, no sale can be made and thus all economic activity throughout the supply chain will suffer.
The distribution of products from point-of-origin to point-of-consumption has become an enormously important component of the Gross Domestic Product (GDP) of developed nations. Considering its utilization of land, labor, and capital, and its impact on the standard of living, logistics is clearly big business. As a significant component, logistics affects the rate of inflation, interest, productivity, energy costs and availability, and other aspects of the economy.
COVID-19's impact on logistics have global repercussions that will likely persist through the end of the year
Since the initial outbreak of COVID-19, most logistics impact has been focused on China. Demand pressures, along with supply chain challenges, have led to decreasing exports as China is slowly restarting economically. The logistics industry faces a relatively greater impact since unutilized capacity is lost and more acutely affects logistics companies' bottom line. Many container shipping lines have canceled services and are running fewer ships.
Sector-specific considerations due to COVID-19 outbreak
Global maritime shipping volumes have decreased heavily from recent COVID-19 outbreak
46% of scheduled departures on a major Asia to Europe route had been canceled in the past four weeks as of Feb 20
80% of world goods trade by volume is carried by sea. The 9 busiest container ports in the world are in China (7), Singapore (1), and S. Korea (1)
COVID-19 has led to 1.7M TEA lost in global container business as of Feb 23, equal to 1% of total global volume in 2019; global container volumes grew 0.7% in 2019, meaning the impact of COVID-19 on volumes has more than erased the full global growth seen in 2019
This has resulted in ~350M USD loss in revenue per week
Global air freight has experienced decreased capacity driven by a reduction in passenger belly capacity and increased rates due to stemming from overdemand
Passenger's bellies represent ~45% of all the capacity in and out of China; decreases in bellyhold from flight reductions (global air traffic estimated to have a ~5% reduction in 2020 due to COVID-19 with 70+ airlines reducing the number of flights), has resulted in moderate increases in rates

TAC index rates from Shanghai to Europe have increased by 9% from just before the Lunar New Year.

Flight restrictions have led to pre-booked or overbooked orders which operators can't fulfill; especially with uncertainty around how to fulfill demand when it opens back up (e.g., air travel to and from China has been made optional with pilot unions by two major international logistical carriers, UPS and FedEx)
There has been an increased demand for air for urgent goods (e.g., medical supplies to support the crisis) and an increase from shippers less willing to bear delays due to strained supply chains from the prolonged shutdown.
The need to ramp up stock levels and given the disruptions to other modes of transport air freight rates have risen as a result. Disruptions expected through at least March
Land transport velocity has slowed down locally, in part due to both inbound and outbound volume reductions and labor shortages; this slowdown is expected to ripple globally in the next weeks and months
Truckers and train drivers are experiencing additional restrictions and regulations by different provinces; limiting transport and leading to a shortage of drivers. <50% trucking staff on duty in China and trucking companies have stopped accepting new business due to labor shortage; truck availability is as low as 10-20% (in certain Chinese regions). These same shortages are just beginning to be experienced in the USA and Mexico.
The slowdown is causing overstocking in a number of ports, including Shanghai, Ningbo, and Xingan
Rail freight has seen less disruption to date, and there has been an increased dependency on a rail for long-distance transportation, provided the shipments can be transported to the nearest rail platforms that have train departures
While there has been an increased demand for rail, capacity is scarce, and first/last mile remains a constraint due to driver labor shortages
Looking forward
COVID-19 impact on global logistics will take an extended period of time to correct; ramp-up time for logistics is likely to be slower than other industries
Normal logistics operations not likely to return until April in China provided the viral spread declines by then
In China, freight pick-up has restarted but reports indicate wait times of 10+ days to get out of China and surcharges to get a product into China
It is still too soon to tell how other countries will be impacted as the virus is now hitting and causing port closures all over the world.
Non-Chinese ports have not yet reported falling throughput volumes, but this may change in the next few weeks, as ships from Asia may not arrive with containers from China.
Inbound container volumes at U.S. seaports projected to be down 12.9% in February from 2019 and down 9.5% in March from 2019
Tech hardware companies are shipping products to alternative production sites (e.g., shipping parts to Vietnam via air and sea)
Some airlines have started to use passenger aircraft for cargo as a temporary means to mitigate shortage in belly-hold capacity.
To date, the UIRR anticipates intermodal transport to and from Northern Italy will continue as normal; however, road transport is expected to experience limitations
What logistics companies should do:
Work with customers to identify and understand: key constraints that will affect planned volume work, changes in demand capacity based on operational and strategic needs
Be able to predict when and where capacity will be needed and allocate resources rapidly to accommodate situational changes; consider how to create extra, surge capacity to handle an uptick in demand as other sectors recover.
The ILS Company is here to help keep your supply chain moving through this global pandemic. We are IATA certified freight forwarder in the USA and Mexico and have direct access to many flight options. Our team of logistics professionals are knowledgeable and ready to meet your needs.
Photo: Pexels and Shutterstock "no copyright infringement is intended"