Leaders of Canada, Mexico, and the U.S. reached the agreement more than a year ago. But the deal needs approval by legislatures in the three countries before it can move forward.
The deal signed by a representative from each country on Tuesday 10th must then be ratified by each one of their respective legislatures. Democrats in the U.S. Congress expressed confidence on this Tuesday that they can pass the deal as soon as next week.
The new deal came after U.S. Democrats asked for labor guarantees and assurances that a labor reform bill passed by Mexico could be implemented. To answer concerns from U.S. lawmakers, Mexico produced a plan for implementation and set funds aside to support the reform on both a federal and local level.
"This deal will help a lot in the national economy because it means investment, it means employment, and it means we will improve our economic and trade relations," said Lopez Obrador.
The US-Mexico-Canada Agreement (USMCA) will be "the best and most important trade deal ever made by the USA. Good for everybody – Farmers, Manufacturers, Energy, Unions – tremendous support"
U.S. House Speaker Nancy Pelosi told her Democratic members that there is a final deal and she expects a vote next week, according to Representative Henry Cuellar, a Democrat from Texas.
For Mexican President Andres Manuel Lopez Obrador, the mood is primarily one of relief. He confirmed the final sticking points, namely labor rights, steel, and aluminum, had been overcome and will no doubt be glad to be rid of the negotiations that were threatening to drag on well into 2020.
What is missing for USMCA approval?
Next steps in the United States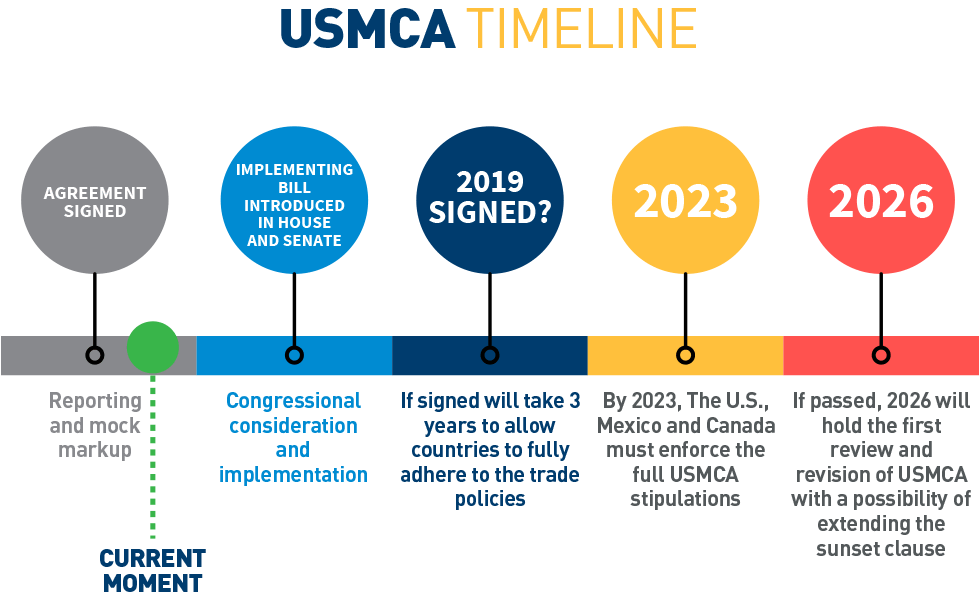 Are you ready for the USMCA?
Talk to the logistics experts to and from Mexico and the United States!