Senators of both parties came together this Thursday, Jan. 16 mornings to pass President Donald Trump's foremost legislative priority — the revised North American Free Trade Agreement — with his historic impeachment trial about to formally begin.
Meanwhile, a phase 1 trade deal was signed Wednesday, Jan. 15 by President Donald Trump and Chinese Vice Premier Liu He that reduces some tariffs between the countries and seeks to boost U.S. agricultural exports to China.
This historic agreement will begin to rebalance our vital trade partnership with China and benefit both of our countries. The signing of this agreement will be an incredible boost for American businesses, farmers, manufacturers, and innovators.
The U.S.-Mexico-Canada Agreement (USMCA) along with the recently signed phase one portion of the U.S.-China trade deal will equate to $2 trillion in trade, Commerce Secretary Wilbur Ross said Thursday. "Also will boost the U.S. gross domestic product (GDP) by a combined 50 to 75 basis points, U.S". Treasury Secretary Steven Mnuchin told on Wednesday.
"There is no question, of course, that this trade agreement is much better than NAFTA," House Speaker Nancy Pelosi, a California Democrat, said when the deal was announced. Supporters on Thursday included Sens. Sherrod Brown and Elizabeth Warren, both staunch labor advocates.
In the Senate, the parliamentarian required the bill to pass through several committees with an up or down vote before reaching a full vote. The last of those, the Foreign Relations Committee, voted to advance the deal Wednesday, Jan. 15.
What is missing for USMCA approval? Next steps in the United States Timeline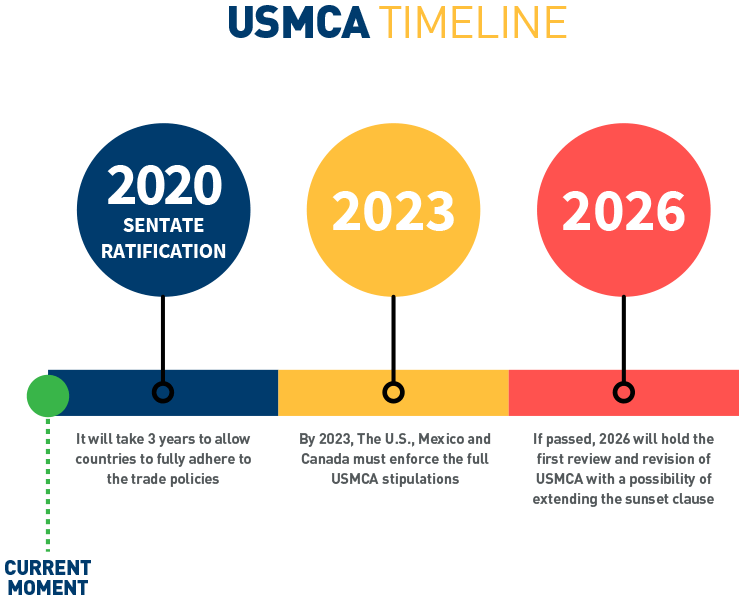 Final Senate passage of the bill marks the culmination of years of arduous negotiations and now it will now go to the President's desk to be signed.
But the deal will not fully enter into force until Canada ratifies the USMCA. Mexico has already passed the revised deal, and Canada is expected to hold a vote in the House of Commons once it reconvenes in late January.
Are you ready for the USMCA?
We make freight shipping to-or-from Mexico easy!