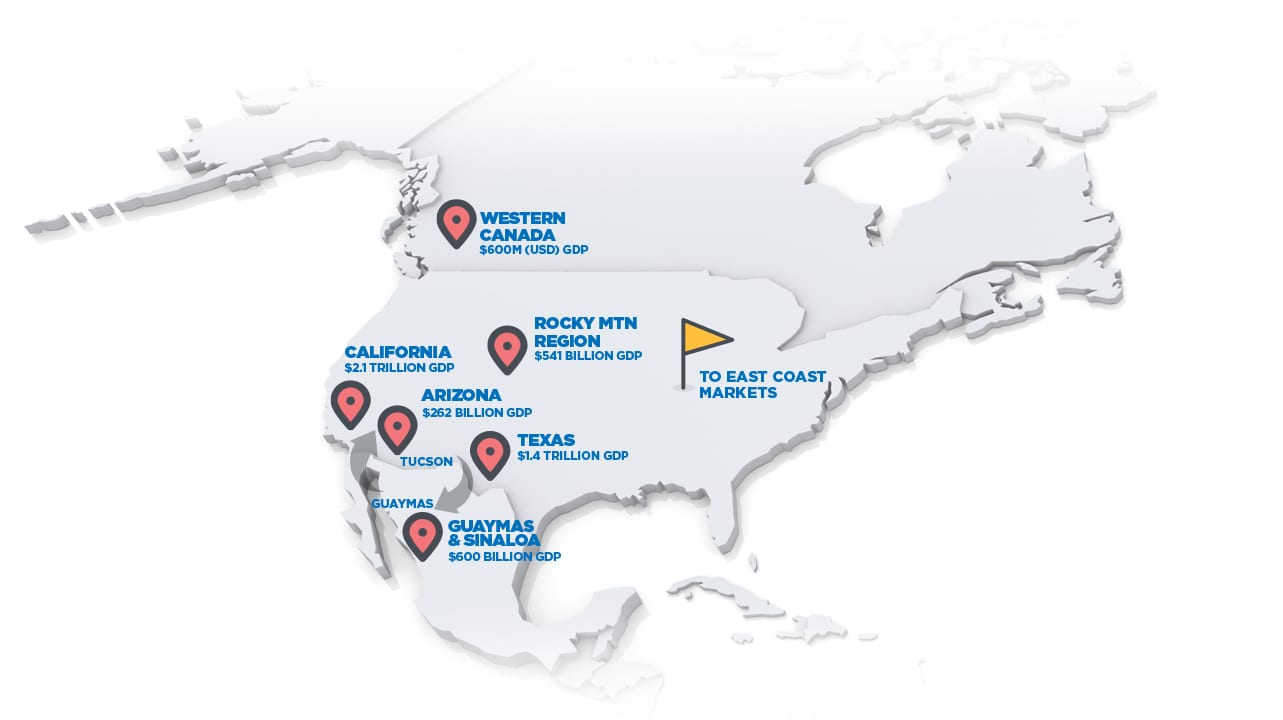 Our gateway on Mexico's west coast
The US-Mexico border of the Arizona-Sonoran Corridor is a multilevel, multistep, multiyear economic development initiative for Pima County and Southern Arizona. The Corridor sits at a crossroads of national and international trade where billions of dollars in goods travel by road and rail from Mexico through the Tucson region destined for markets throughout the United States.
A link between Interstates 10 and 19 will speed the movement of goods, reducing mileage by 40 percent, and spur economic development.
Take advantage of the growing Sonora corridor:
Provide a gateway for $32 billion total worth of goods crossed through Arizona's ports of entry
Facilitate expansions in existing automotive sectors with 100,000 Arizona related jobs supported by trade with Mexico
Leverage The ILS Company logistics centers proximal to air, rail, and ground transportation services in Sonora
Automotive industry insights
The new generation of Ford Bronco comes to Hermosillo, Sonora.
"No copyright infringement is intended" Image property of Motortrend https://bit.ly/3l1Fz40
Ford's presence in Hermosillo has attracted a broad assemblage of automotive component suppliers, which, in turn, has attracted the growing manufacturing sectors.
Today, Hermosillo is part of a network of manufacturing cities that include Guaymas and Empalme, just 80 miles to the south. Ford suppliers, as well as other automotive suppliers interested in becoming part of the local supply chain, may benefit from a more rural location's cost benefits. Automotive suppliers in Sonora take advantage of The ILS Company import and export services daily to ensure a continuous flow of over 100K auto parts shipped daily with a year's worth of more than $11 US Billion
Benefit from Sonora's Manufacturing Industry
Hermosillo's manufacturing industry caters mainly to automotive production due to the city's foundation in automotive parts. Hermosillo's Ford Stamping and Assembly plant were established in 1986.
When lower cost, greater skills, and improved employee attitude come together, manufacturers experience more productivity, higher efficiencies, and ultimately more satisfied customers. This is Mexico's competitive advantage and ILS has a large footprint in the most common industrialized cities in the border and interior of border states such as Nogales, Hermosillo, Guaymas, and Empalme
ILS'S MEXICO AUTOMOTIVE SOLUTIONS
International transportation (FTL/LTL, Air, Ocean, International (rail), Specialized equipment, and JIT. Warehousing (Inventory control, Distribution, VMI, Cross-Dock and Packing & assembly fulfillment) Import & Export (MX and US Customs Brokerage clearance for door-to-door shipments and Inbound Management)

Your Gateway to and from Mexico
Mexico is planning to spend $600 million to improve and expand the Port of Guaymas on Mexico's West Coast. Guaymas port is expected to become a major North American import center from burgeoning markets.
At ILS we have one mission: to always contribute to the competitive advantage of our customers.
Speak with one of our representatives today
Roy Austin
(512) 595-1193
Set a 1:1 meeting today!